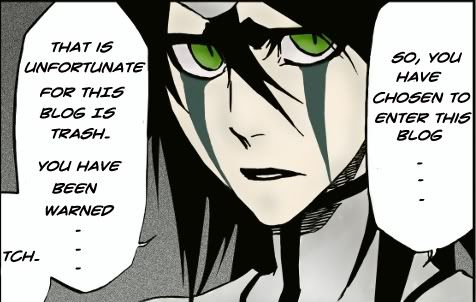 So, most people here already know Iím a bleachtard/writer of fluff/ulquihime fanaticÖ
Well the truth isÖ
yep, all those things are correct. XD
Lets see, what else? Iím also a huge Harry Potter fan (Iím a Ravenclaw, yo!), I love reading (mostly fantasy or sci-fi, but I like historical fiction too)Ö I also like to mess around in photoshop making sets and coloring manga. It's a pretty good time-waster...
Iíve already done the whole college thing, and it ended up I had a green thumb. My job deals with researching plants for bioenergy, so I have done a lot of plant care/data collection/agronomy work. It gets difficult, especially when itís over 100 F heat index in the summer and we are fully covered in a field. (Darn those razor sharp leaves!) But I really like spending time with my team. We get along great and it helps make the more horrible work go by faster.
Anime/Manga Iím into currently, or at least recently, include: bleach, naruto, fairy tail, blue exorcist, d. gray-man, mawaru penguindrum, star driver, hetalia, darker than black, and ouran high school host club.
And yeah, I think thatís all I want to say at the moment. Iíll probably post some of the drabbles I have written that never see the light of day, and just general things that interest me. Expect a lot of UlquiHime. Big surprise, right? XD
Ah, and my name is Megan, so if you see that name floating around, do not be confused for it is I!