Oh so that's why these chapters are so poorly written. They were translated by OrganocDinosaur.
Summary time...*looks at the cover page and shudders in disgust* Well were off to a good start. Chapter 19 "Puppet" "Mini-Gun." God damn it more puppets is Salad going to be destined to fight only puppet from now on like her mother if they want to make her come off as cool.
The cover page...well it Out right says "Passionate+Shinobi" with...You know what a picture worth a thousand words..damn can't..wait. There we go.: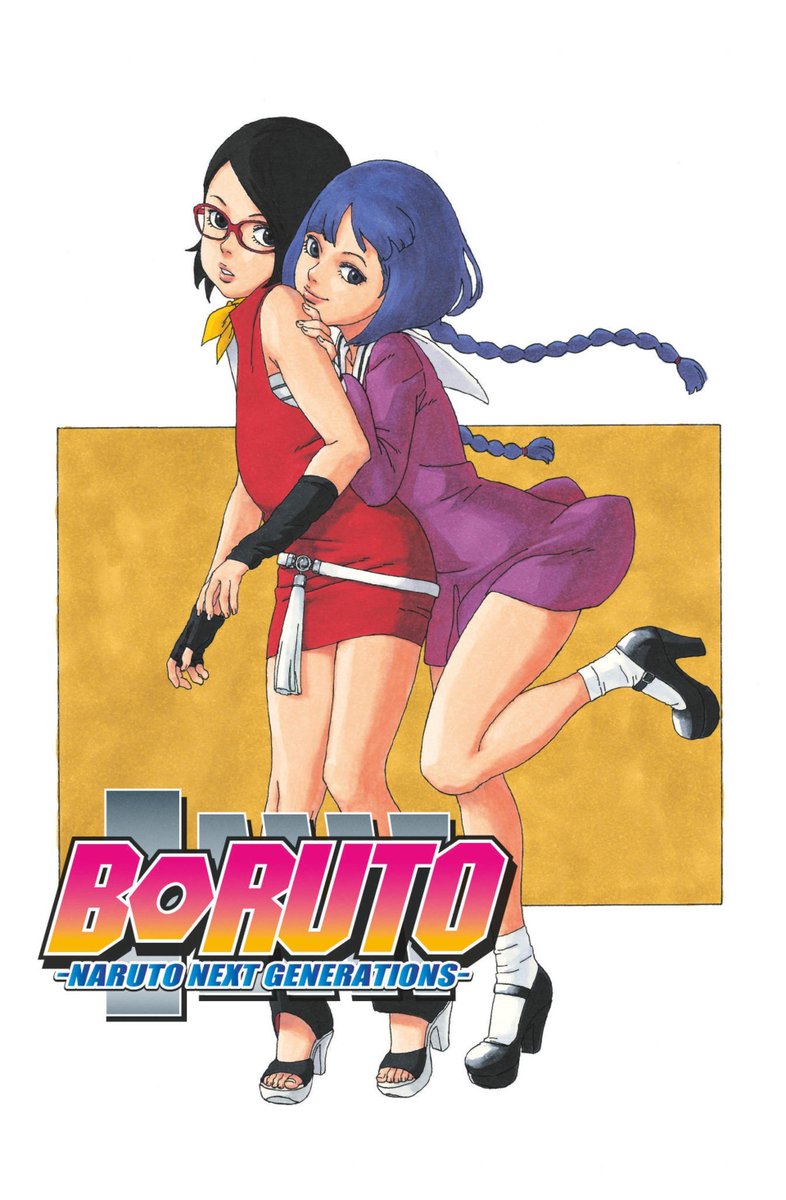 OK, when they leave "The Institute" they give them the manuals for their new weapons as well as contact information. When Future Salad suggest them taking more of their gadgets, Boruto says if he takes anymore it will hinder their movements...don't they have storage scroll or have all scrolls just turn into USB Sticks? kitten this manga. The sleazy inventor is coming along in a battle suit. I can't even tell what they are ripping off anymore because it so generic. Also for some reason a battle suit was originally made for nursing and Rehabilitative care.
Salad and the Clone get to talking. Clone wonders if Bolt is popular with girls. Salad says the he can make fast friends with anyone, so another aspect they took for Naruto that just make everything easy for him. Wohoo. Oh she brings up that she is attracted to Bolt making her Salad's rival. Well at least she is more direct, and forward then Hinata.
They arrive at the Blimp...oh they brought the dog along. Oh the puppet are things in cloaks that are going to be fighting them this chapter. Why do they look like aliens? Bolt uses a lighting move again, Salad fire, and Cups wind. The Puppet are scientific ninja weaponry, autonomous puppets -so robots-, and are able to produce fireball attacks. The sleazy inventor uses what looks like the Sage's Black orbs to adsorb the robots fire attacks until they run off of energy.
Oh it turns that Scientific Ninja Weapon are the proprietary of the leaf village, so no one else is allowed to make any discoveries other then them because they have copyright. Is this suppose to be a time of peace and unity through the various countries? Turns out at one point Sleazy inventor was put under genjutsu and leaked information...are they talking about what happened at the start of the arc or something else earlier?
Oh Konohamaru isn't dead. Just hiding out in a cave. Konohamaru and Sleazy inventor talk about the black box in the ship, and Konohamaru is about to give him his "scroll memory." Then Ao appears at the entrance to the cave. Oh he is know as "the Byakugan Assassin," Fourth Mizukage right hand man in the Bingo book. ...No wait the idiot got the number wrong Mei was the Fifth Mizukage. HAHAHA! He pulls out a minigun! He looks like a kitten cyper punk mobster!
Merry Christmas everyone. I was able to do this before Christmas Eve, so it doesn't ruin the holiday.  
Please do not like this post. I do not want that image in my like section.
Edited by Bail o' Lies, 27 December 2017 - 06:53 PM.